Brand safety solutions on Eskimi
Brand safety refers to the measures taken to ensure that a brand's advertising will not appear alongside content that could harm the brand's reputation or be offensive to its target audience. This can include content that is violent, hateful, sexually explicit, or promotes illegal activities.
Brand safety is an important consideration when placing advertising, as it helps to protect the brand image and reputation. It can also help to prevent legal issues from arising from advertising being placed next to inappropriate content. This can be achieved through various ways such as using brand safety tools, monitoring the placements of ad, using keywords filtering, context analysis and more.
Eskimi DSP supports 5 different layers of brand safety tools which ensures relevant and brand-safe environment.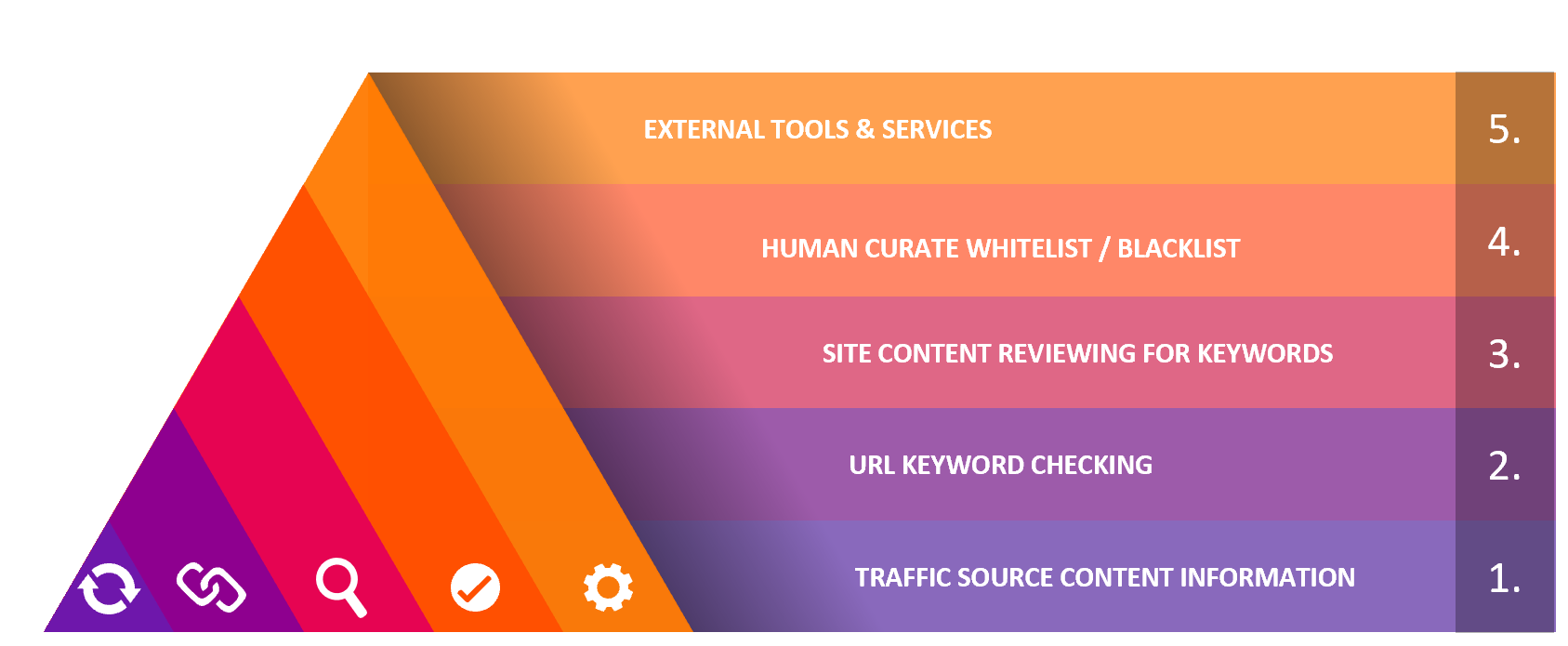 Traffic source content information
Category exclusion
The first layer consists of checking the general website content from the information provided by the exchanges and/or publishers. All placements are categorized, and sensitive categories - such as adult content, betting, arms, violence, etc. - are excluded accordingly in every campaign: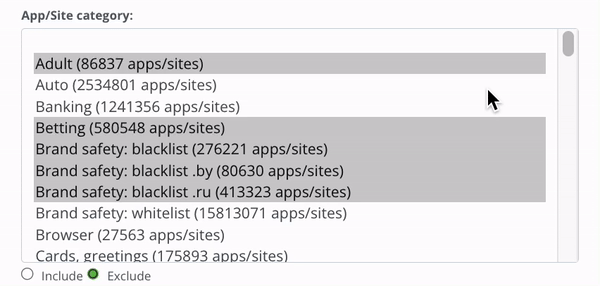 Picture 1 - Categories that excluded in Eskimi DSP as default
Pre-optimization based on historical data
Besides the category exclusion, campaigns are pre-optimized by using historical placement stats to exclude sites or/and apps that showed poor performance in the past. Also, this tool works both ways – it is possible to run on sites/apps that showed good performance. In other words, general brand safety solutions are done for each brand and its advertising.
Limitations: Information that comes from an exchange/publisher is not always accurate.
Addressing limitations: Employing additional internal tools to ensure brand safety.
 URL Keyword checking
Unfortunately, traffic source content information isn't enough when facing placement content. A lot of news sites are categorized as not sensitive, although they are full of sensitive and disturbing information that may harm the brand. To move forward with an in-depth solution, Eskimi DSP launched a URL keyword checking tool. If an URL contains keywords from a negative keywords list, an impression will not be purchased and the ad won't be showed near such an article.
Limitations: 1) URL doesn't include any negative keywords. 2) Apps traffic cannot be checked.
Addressing limitations: 1) Reviewing website content. 2) Whitelist/Blacklist for apps.
Site content reviewing for keywords
The keyword checking an URL helps to analyse the content. However, it doesn't safeguard from lists that don't have a negatively listed keyword in the URL but have a lot of unwanted material in the content itself. To bring brands to an even higher brand safety solution, ESKIMI DSP is working on an on-site content analysis that will analyse the content of an article on the homepage.
Limitations: 1) Content doesn't include any negative keywords. 2) Apps traffic cannot be checked.
Addressing limitations: Whitelists/Blacklists
Human curated whitelist/blacklist
By excluding sensitive topics, we limit ads to certain categories. However, some brands are solely focused on exact categories. On Eskimi DSP it is possible to whitelist and blacklist sites/apps based on brand preference. This means that ads will appear or won't appear on (un)wanted placements.
Limitations: 1) Different definitions when understanding avoidable content. 2) Whitelist limits traffic. 3) Human mistakes.
Addressing limitations: Align and approve whitelist with the client.
External tools & services
In addition to our in-house brand safety solutions, we are working with 3rd party brand safety platforms such as DoubleVerify, Integral ad Science, The Media Trust, and many other tools if a client requests.
To sum it up, brand safety should be one of the highest priorities for the brand and for the platforms that they are partnering with. With an always growing demand, Eskimi DSP is working on in-dept solutions to fill the client's needs. As the market is getting more aggressive and competitive these deeper solutions are key when delivering good services.
Limitations: 1) Extra costs when using selected tools. 2) Potential increase in CPM price. 3) Limited abilities to verify app traffic.